of liberty and freedom. Islam means "submit/submission."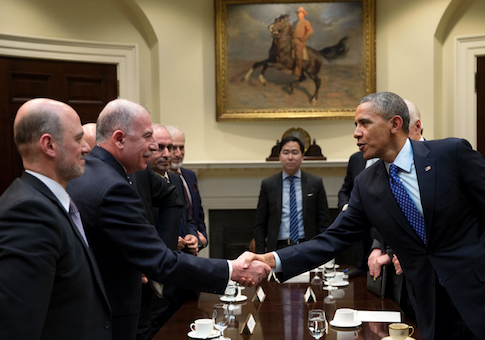 Anas Altikriti standing next to Iraqi Parliament Speaker Usama al-Nujaifi shaking hands with President Obama.
EXCERPT:  "A senior member of the Muslim Brotherhood was recently hosted at the White House for a meeting with President Barack Obama, prompting an outcry from critics of the global Islamist organization. Anas Altikriti, a top British lobbyist for the Muslim Brotherhood whose father heads Iraq's Muslim Brotherhood party, recently met with the president and Vice President Joe Biden as part of a delegation discussing problems in Iraq.
Altikriti, whose work has also been tied to Hamas, can be seen smiling in photos published by the White House as he stands next to Iraqi Parliament Speaker Usama al-Nujaifi, who is pictured shaking hands with President Obama in the White House's Roosevelt Room. The meeting was first highlighted by the blog Harry's Place."
As Obama meets with our enemies and kisses their filthy asses let us remember the brave Marines who fought to liberate Fallujah from the same Islamofascists that The Kenyan Rodeo Clown just met with. The Muslim Brotherhood and the Cordoba Foundation are the enemies of freedom and liberty in the world but that didn't stop President Vacation from meeting with them. More than likely his master George Soros aka Dr. No, ordered it.
In another world, with equal justice, the Halfrican would have been impeached long ago and Soros deported back to whatever rock the slimebag crawled out from under.
"the Muslim call to prayer is "one of the prettiest sounds on Earth." Barackus Al-Obama
http://freebeacon.com/muslim-brotherhood-leader-meets-obama-in-white-house/