and demented beyond all measure.
EXCERPT: "On Sunday, President Obama and First Lady Michelle released a statement thanking Muslim Americans for their many "achievements and contributions… to building the very fabric of our nation and strengthening the core of our democracy."
The comments were made to mark the celebration of Eid-al-Fitr, a time of spiritual renewal for Muslims which comes at the end of the month-long fast of Ramadan. The Obamas said in their statement that Eid "celebrates the common values that unite us in our humanity" and "welcomed their commitment to giving back to their communities." The International Business Times reports that during Eid, Muslims join in Islamic prayer, while saying "Allahu Akbar," or "God is Great," and feasting.
The statement further reads that the administration "wishes Muslims in the United States and around the world a blessed and joyous celebration." The letter ended with salutation of "Eid Mubarak," which roughly means "blessed celebration."
Can there be ANY DOUBT that President Vacation is little more than a Muslim asskisser and collaborator? After all, this is the very idiot who turned NASA from space exploration to Muslim outreach! haha. This halfwit and his disgusting hog of a wife are so deep into pandering and asskissing that it is a national joke.
Muslims building the fabric of our nation? BULLSHIT! Thomas Jefferson read the Koran and pronounced them a danger to humanity and of course Obama's cousins in the Barbary Pirates made life so difficult for the young United States that President Jefferson had to send in the Marines to whip the vermin, which they did.
What HAS Islam given the world? They destroyed one of the wonders of the ancient world, the Library at Alexandria along with untold ancient documents because in THEIR eyes, the Koran is all you need, destroyed a 10,000 year old Buddha, slavery, death, dismemberment, genocide, pedophilia, female genital mutilation, and complete and total barbarism.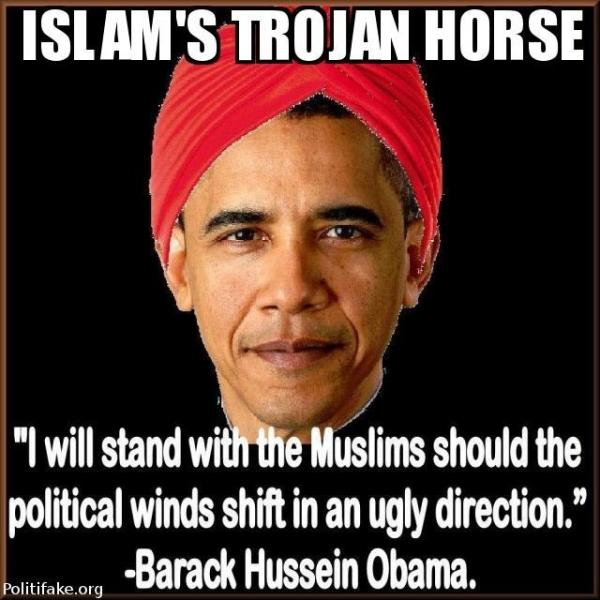 http://www.breitbart.com/Big-Government/2014/07/28/Obama-Celebrates-Muslim-Contributions-to-the-USA