destroyed, wiped out, expunged from the face of the Earth OR we leave these vermin to their own and form a more perfect Union excluding these maggots.
EXCERPT:  YouGov's latest research shows that many Americans support making it a criminal offense to make public statements which would stir up hatred against particular groups of people. Americans narrowly support (41%) rather than oppose (37%) criminalizing hate speech, but this conceals a partisan divide. Most Democrats (51%) support criminalizing hate speech, with only 26% opposed. Independents (41% to 35%) and Republicans (47% to 37%) tend to oppose making it illegal to stir up hatred against particular groups.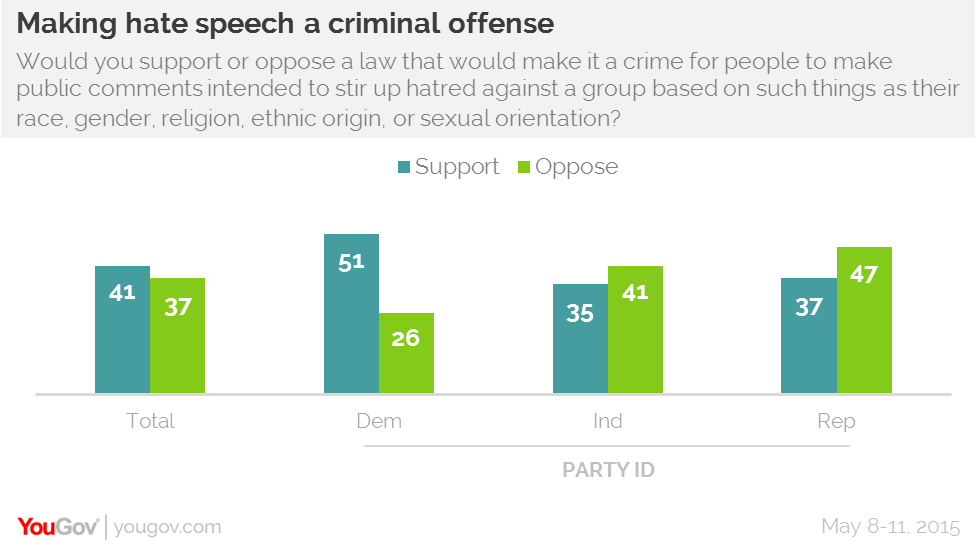 Let us be very clear here. The First Amendment protects UNPOPULAR speech. You have the right to say, "all n*ggers must hang." That doesn't mean that you won't get punched in the mouth, as there are consequences for all actions. That said, the New Black Panther Party HAS THE RIGHT to say that, "all cracker babies must die," and they DID say it, more than a few times. Does that offend? Sure. Are they assholes? You bet. Will the Gunny ventilate their brain housing group with a well-aimed .45 acp if they mess with him or his? Fucking A skippy. "And I'll be home in time for corn flakes…" (Total Recall) But they have the right to say it. Same as the Westboro Baptist vermin. Again, the consequences of THEIR actions has resulted in assbeatings and angry veteran bikers menacing them and blocking them from view of the bereaved.
So we have 41% saying that "hate speech" should be a criminal offense and only 37% AGAINST? WTF America? Here in the US of A we punish people for the crimes that they DO, not for what they think, otherwise the Gunny would be doing Life w/o parole for mentally robbing armored cars! haha.
Welcome to the Progressive Regressives United Socialist States of America. No doubt Committee Chairman Comrade Barack Lenin Obama is currently drafting a new Constitution along the lines of the former Soviet Union one.
"Freedom is never more than one generation from extinction." Ronaldus Magnus
Looks like the light of freedom in the USSA is dying out.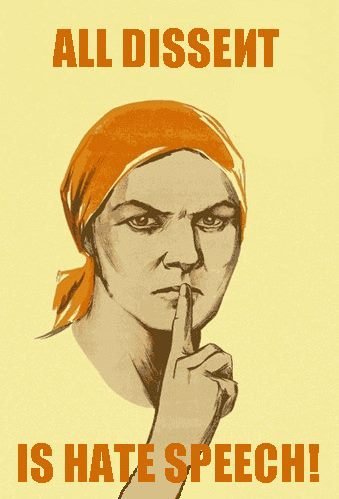 https://today.yougov.com/news/2015/05/20/hate-speech/