"what the f*ck was wrong with Americans in that they did not impeach the traitor in the White House and jail his admin?"
EXCERPT:  "The State Department hosted a delegation of Muslim Brotherhood-aligned leaders this week for a meeting about their ongoing efforts to oppose the current government of President Abdel Fattah al-Sisi of Egypt, who rose to power following the overthrow of Mohamed Morsi, an ally of the Brotherhood, in 2013."
and
EXCERPT:  "Another member of the delegation, Maha Azzam, confirmed during an event hosted Tuesday by the Center for the Study of Islam and Democracy (CSID)—another group accused of having close ties to the Brotherhood—that the delegation had "fruitful" talks with the State Department."
So President Lawn Jockey and his Iranian Communist advisor Valerie "Tehran Val" Jarrett refuse to meet with our only REAL ally in the Middle East, PM Netanyahu but they will readily meet with a murderous terrorist group, the Muslim Brotherhood, who want the death of the Great and Little Satans (US and Israel).
The ENTIRE Obomination is one big nest of traitors and vermin who should be impeached and executed after a five minute trial because THAT is all traitors deserve. Once Tehran Val is out from under Dumbo's protection in 2017, if someone was to hang that traitorous bitch the Gunny would cheer and if he was on the jury trying said hero, "the glove did not fit thus I had to acquit."
President Abdel Fattah al-Sisi of Egypt, is a friend to the USA and is VERY outspoken against radical Islam and has attacked radical Islam on several occasions, calling on Muslims worldwide to reject it, fight against it, and to reclaim their religion from the radical scumbags. So Americans must ask themselves WHY would the Obomination support a TERRORIST group like The Muslim Brotherhood over a man who is against radical Islam and who wants to make Egypt a stable nation and who is on our side? There can only be one answer…
TREASON!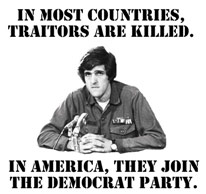 http://freebeacon.com/national-security/muslim-brotherhood-leaders-hosted-at-state-department/#sthash.DFZycXHU.dpuf