Russia has a former KGB Colonel, and America has a community organizing, pencil neck whiny ass pussifed pansy who could not fight his way out of a thick fog. There is NO WAY that anyone can convince the Gunny that the Democrud Party of traitors is not going down faster than Cankles Clinton on a Humma, or is it Huma? From an anti-Semite loser named Carter to a perverted impeached disgusting liar and pig BJ Bubba to the current pathetic piece of shit. Secret Service bros/sisters, the Gunny feels your pain guarding this sack of shit. And to the Marines who have to fly around with this turd? Try not to think what Chesty would have to say about the crybaby.
King Abdullah of Jordan FLYING combat missions against ISIS.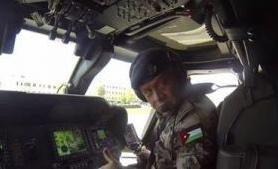 PM Netanyahu
Putin

The Community Organizer & First Gay President
Reggie Love's cock holster and bleated:
President Vacation reading from TOTUS: "I now ask every American to respect the call for calm reflection from two parents who lost their young son. And as we do, we should ask ourselves if we're doing all we can to widen the circle of compassion and understanding in our own communities. "We should ask ourselves if we're doing all we can to stem the tide of gun violence that claims too many lives across this country on a daily basis. We should ask ourselves, as individuals and as a society, how we can prevent future tragedies like this. As citizens, that's a job for all of us. That's the way to honor Trayvon Martin."
(WARNING: HARSH language ahead, liberal sissy boys turn back.)
First off, Fuck you Obama and your gun control agenda.
Second, honor a thug, high on "lean", (lean consists of three basic ingredients — codeine, a soft drink, and candy (Skittles) and Trayvon had been using Lean since at least June 2011)), who instigated a fight (following someone IS NOT A CRIME), thought he had an easy beatdown, except this one had a Glock? Bullshit. Fuck you again Obama.
Third, WHERE is President Fuckstick on ALL of the BLACK ON WHITE crimes in America? Where was Dumbo when black flash mobs ran through a state fair, BEATING on innocent white men, WOMEN, and CHILDREN?
Fourth, WHY didn't President Present say something about the BLACK JUDGE clearing a courtroom of ALL white people? Fuck, that sounds like something STRAIGHT OUT of Zimbabwe, Kenya, or Mandela's South Africa.
Fifth, WHERE was Dumbo when black teens were stomping an INNOCENT white teen, waiting on a bus, into the ground?
Sixth, WHERE was President Dickhead's condemnation of the New Black Panther Party's threatening of WHITE voters in Filthadelphia? No where, that's where. In fact, he instructed Eric Witholderto IGNORE IT!
Here is a SHORT LIST of Black violence against WHITES with a map of black attacks on white people in just 2011/2012! These are headlines in local newspapers/TV news.
1.  Deliveryman  beaten, robbed by group in Wilmington. NO WORD FROM OBAMA
2.  Officials:  Flash Mobs Already Plague South Side. NO WORD FROM OBAMA
3.  Panic  amid US flash mob attacks. NO WORD FROM OBAMA
4.  Officials  Try to End Philly "Flash Mobs." NO WORD FROM OBAMA
5.  Teens  in a mob assault and rob Center City patrons. NO WORD FROM OBAMA
6.  A  bystander was severely beaten by the "flash mob." NO WORD FROM OBAMA
7.  100 [black] Teens Storm Inside Macy's & Start Fighting. NO WORD FROM OBAMA
8.  Center City Store Brawl Caught On Tape. NO WORD FROM OBAMA
9.  African American flash mobs terrorize Philadelphia yet again. NWFO
10.  RIOTS IN  PHILLY FLASH MOBS (E KLASS TV)!!! NO WORD FROM OBAMA
11.  "As  Victim Speaks Out, City Explores Ways To Stop Violent Flash Mobs" NWFO
12.  Flash  Mobs in Philadelphia: Sorry PC America, They are a Racial Thing." NWFO
13.  "Philly  mayor: flash mobbers 'damaging their race.'" NO WORD FROM OBAMA
14.  "Reading, Writing, Rioting. Philly Flash Mob Is From Oprah-Funded School" NWFO
15.  "Chased  home: Mob [black] attacks [white] man in his house." NWFO
16.  "Beat Whitey Night?"
17.  "Knock out Game." Hit a white person and try to KO them. NWFO
18.  Black Beach Week that turns a town into "living hell?" NO WORD FROM OBAMA
19.  Jul 4 2012? 11 episodes of racial violence against whitey involving more than 1000 black. AGAIN….NO WORD FROM OBAMA
20.  "Hate Crime, Robbery Against Brooklyn Yeshiva Student In Monsey" NWFO
21.  "Dunkin' Donuts 'rampage' caught on video. Black teems cause more than $2,000 in damage." NO WORD FROM OBAMA
22.  "I was beaten, taunted for being white, Bronx man says after subway attack." NWFO
23.  "3 Arrested, More Sought In Gang Beating That Left NJ Man In A Coma." NWFO
24.  "Update: Six teens face murder charges in Passaic beating, robbery." NWFO
The ENTIRE list can be found at: http://www.wnd.com/2012/09/black-mob-violence-and-the-media-silence/
If you are a White person and you're still patronizing the National Felon League, after what some dipshit tweeted about poor little ol' Trayvon, you're a fool. YOU are ENRICHING the enemy. HOW MANY blacks in the National Felon League have been arrested for violence? 30? 40? Damn good role models huh?
If you are a white person, ARM YOURSELF, if you have not already. A Carry Concealed Permit, open carry, etc., ARE YOUR FRIENDS. This violence is happening because President Vacation says stupid shit like, "the police (Cambridge PD) acted stupidly," and the thugs KNOW that neither Dumbo the Kenyan Moron NOR Eric "racist" Witholder will anything to stop it, and THEY ARE RIGHT! This is the entitlement crowd, with NO self-respect for themselves and thus, have NO RESPECT for others. They care for nothing, want everything, and believe they have the right to rape, pillage, and plunder. They are little more than Huns and Vandals inside the gates and their so-called leaders, Al "Twanda Brawley" Sharptongue and Jesse "Love Puppy" Jackson are the worst of the bunch of squirming maggots.
Obama is instigating a white genocide in America, along the lines of his cousin Mugabe and his best friend Mandela and Eric Witholder is enabling it.
http://usnews.nbcnews.com/_news/2013/07/14/19467556-obama-honor-trayvon-martin-by-battling-gun-violence
http://whitegirlbleedalot.com/
http://www.wnd.com/2012/09/black-mob-violence-and-the-media-silence/