WHO in the HELL briefs this idiot? Valerie "the rat" Jarrett? Mickey Mouse? Donald Duck? Because if this idiot was briefing in the military, they'd be busted down to Queen of the Head ASAP!
EXCERPT:  "It's a remarkable irony: the same U.S. president whose administration has gone to great lengths to monitor journalists, whistleblowers and the public, claims to be oddly in the dark regarding basic information on some of his biggest controversies.
Here are eight instances in which President Obama said he heard it on the news—or way after-the-fact—just like ordinary Americans."
1. Controversial Air Force One Photo Op Flyover
"It was something that, uh, we found out about, uh, along with all of you." Barack Obama
2. Fast and Furious Cross-Border Operation Supplying Guns to Cartels
"I heard on the news about this story, that, uh, Fast and Furious." Obama, Oct. 12, 2011
3. Gen. Petraeus' Sex Scandal
Eric Dickholder's FBI investigates Petraeus' actions for months and months, while The Obomination is on the re-election trail, yet Dumbo never knew. "White House officials have refused to answer the question as to when, exactly, Obama was finally briefed."
4. The IRS Using Nixonian Tactics Against Conservative Groups
Q: "When did you first learn that the IRS was targeting conservative political groups?"
A.  "I first learned about it from the same news reports that I think most people learned about this. I think it was on Friday." Obama, May 2013

5. The Secret Seizure of AP News Reporters' Phone Records
"We don't have any independent knowledge of that, [President Obama] found out about the news reports uh yesterday on the road." Baghdad Jay Carney, May 2013.
6. NSA Spying on Foreign Leaders
"I can assure you that I certainly did not know anything about the IG report before the IG report had been leaked through the press." Obama, Oct 2013
7. Veterans Affairs Scandal
Baghdad Bob Carney:  "We learned about them through the reports. I will double check if that is not the case. But that is when we learned about them…"
8. Hillary Clinton's Email Arrangement
Once again the Lyin Hawaiian strikes. He sends and answers emails from The Butcher of Benghazi's private email address and said the Bill Plante from SeeBS News that The Obomination: "that he found out the same time everybody else learned it through news reports."
Now here is another funny:  "I have no idea when the president first learned about it. I wouldn't be surprised, however, if he had learned about that by reading the newspaper." Josh Earnest. In other words, we're as full of bullshit now as we were with the first lie.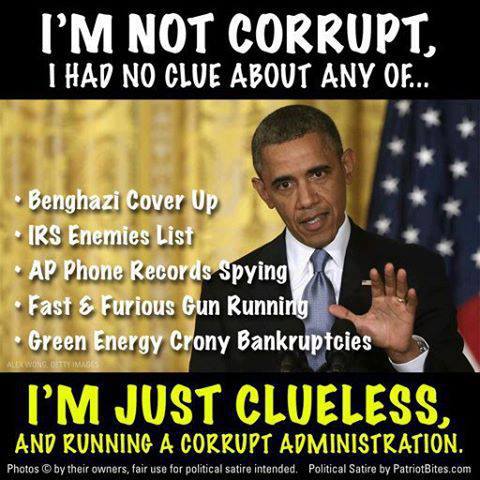 http://sharylattkisson.com/8-times-obama-says-he-was-way-out-of-the-loop/