the Squatter-in-Chief is an EPIC FAILURE! Like a slab of bologna, no matter which way you cut him, he comes up EPIC FAILURE! LOSER! IDIOT! CLOWN!
EXCERPT:  "August's abysmally weak job growth proved yet again that President Obama's economic policies are a miserable failure that will continue to undermine our country until he leaves office. The government's report that the economy added just a minuscule 96,000 jobs last month came at the end of the Democrats' defensive national convention, where the president, Bill Clinton and other party luminaries made extravagant claims that things will get better if Mr. Obama is re-elected to a second term."
and
EXCERPT:  "But the Labor Department says job creation during Mr. Obama's presidency has been several hundred thousand at best. In fact, "Obama is on track to have the worst jobs record of any president since World War II," says Washington Post Fact Checker Glenn Kessler."
WHY in the name of Sam Hill would Americans vote for this idiot who is a failure, who's policies SUCK and have failed, and who has foisted over ELEVEN THOUSAND new pages of FEDERAL regulations on Americans in just 3.5 years?
KICK THIS BUM OUT IN NOVEMBER!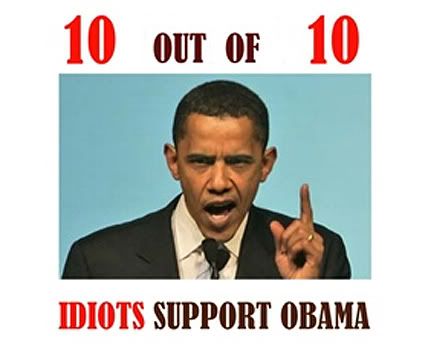 Dumbo can't meet with a world leader but has time to meet with a DJ named Pimp with a Limp?
http://miamiherald.typepad.com/nakedpolitics/2012/09/dolphins-dissing-president-obama-chats-pitbull-medicare-on-911-with-pimp-with-the-limp-dj.html
UPDATE: NO TIME FOR BIBI NETANYAHU but time to go on that pervert Letterman's show. Maybe they're an item as Larry Sinclair DID say that Obama enjoys the oral attention of "old white men."
"After the show, let's hook up in my limo out back huh Davey baby?"
http://www.breitbart.com/Big-Hollywood/2012/09/11/obama-back-lettermanhttp://www.washingtontimes.com/news/2012/sep/11/obama-on-track-to-have-worst-job-record-since-worl/?page=all#pagebreak