HOLY DOG SQUEEZE! EPIC FAILURE as the Kenyan Idiot speaks as people drive by and don't stop. Obama's EPIC Carteresque sweater moment!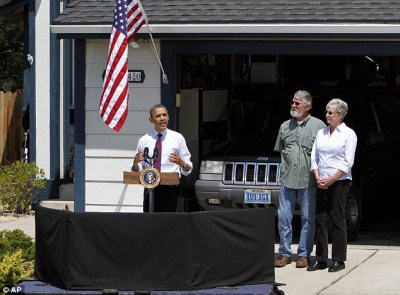 EXCERPT:  "As leader of the free world President Obama will be used to making speeches to millions of people around the globe. So he might have felt the occasion was a little beneath him yesterday when he stopped off in Reno, Nevada, to deliver an address outside a couple's garage. In what could be a disastrous photo opportunity for the President's campaign, Mr Obama spoke to a handful of people in the crucial swing state. The president's 15 minute address outside the home of Paul and Val Keller on Friday afternoon, drew a small audience of neighbours and supporters – though even his hosts said they were not sure if they would vote for him in the coming election."
A little man-child behind a little podium behind the proper sized presidential seal inside of a black play pen. Obama is as pathetic as they come. His weak-assed attempt to connect with average Americans is as fake as his birth certificate.
Word on the street is that he ate a dog there but right now, the neighbors are taking a head count of their pets before reporting in.
BTW, the BRITISH press nailed this one, NOT ONE network from the Liberal Lickspittle Media bothered to cover this EPIC FAILURE!
Obama plant in Mitt Romney crowd. (Again covered by Brit press)
http://www.guardian.co.uk/world/2012/may/11/hating-mitt-romney-democratic-voters?CMP=twt_fd
http://www.dailymail.co.uk/news/article-2143321/Obama-makes-speech-couples-GARAGE–hosts-vote-him.html?ito=feeds-newsxml
http://ace.mu.nu/archives/329209.php